Summer School "Energy management at micro and nanoscales"
Perugia (IT), July 8-10, 2013
The Noise in Physical System Laboratory is glad to announce the fourth edition of NiPS Summer School and Workshop devoted to "Energy management at micro and nanoscales".
The school, supported by European Commission under the FET Proactive research project LANDAUER (www.landauer-project.eu) and the Coordination Action ZEROPOWER (www.zero-power.eu), is open to graduate students, post-docs, young researchers, and in general to all scientists interested in the physical foundations and practical applications of energy harvesting at micro and nanoscales.
The School is followed by the international conference NANOENERGY2013, that covers the subject of energy at small scales, a cross-disciplinary field that covers both theoretical and experimental aspects of fundamental and applied sciences ranging from nanotechnology to statistical physics, from computer science to biomedicine.
For more information please visit www.nanoenergy2013.eu .
The School is organized in Perugia (IT) during the international jazz festival Umbria Jazz 2013.
Previous editions of NiPS Summer School have seen in three years the participation of more then 80 students and young researchers from all over the world. Please visit the following links for information on previous editions, together with the slides of the lectures and photos of the events:
www.nipslab.org/summerschool2010
www.nipslab.org/summerschool2011
www.nipslab.org/summerschool2012
Scientific Director
Luca Gammaitoni, NiPS Laboratory, Dipartimento di Fisica, Università di Perugia
Lecturers
- G. Abadal (University Autonoma of Barcelona)
- L. Alfonsi (University of Perugia)
- M. G. Cain (Functional Materials National Physical Laboratory, UK)
- D. R. Chialvo (Emc3 Lab., AR)
- Y. Omar (Technical University of Lisbon)
- D. Paul (University of Glasgow)
- W. Venstra (TU Delft)
- H. Vocca (University of Perugia)
- L. Worschech (University of Wuerzburg)
Topics
. Micro and nanoscale energy transformations
- 
Introduction to energy harvesting (EH)
- 
Thermoelectric efficiency

- Linear and non-linear vibration harvesting
- 
Phonon engineering for EH
- 
MEMS/NEMS design and realization

- Micro/Nano devices for EH
- 
ICT applications of EH

- Future technological trends: beyond CMOS technology and energy efficiency
General Program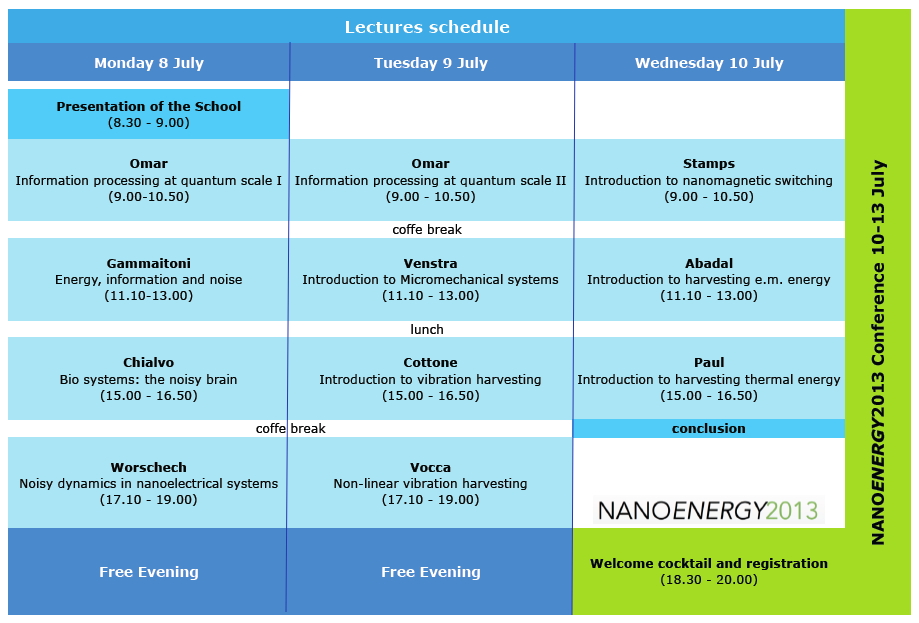 Contacts
NiPS Laboratory, Dipartimento di Fisica, Università di Perugia
via Pascoli 1 - I-06123 - Perugia (Italy)
Email: school@nipslab.org
Venue
Hotel Giò (website)
via Ruggero D'Andreotto, 19 - 06100 Perugia (PG)

+39 075 5731100

reception@hotelgio.it
How to reach
From Roma Fiumicino Airport you can move to Perugia by train or by bus.
---
Registration fee
The registration fee includes lunches and teaching materials.
Summer School (8-10 July 2013): 400 €
Early registration (untill 1 May 2013): 300 €
If you will attend also the Conference NANOENERGY2013 please consider the following fees for both events:
Summer School + NANOENERGY2013 (8-13 July 2013): 900 €
Early registration (untill 1 May 2013): 750 €
Student*: 600 €
Early registration for student*: 500 €
Accompanying person (for gala dinner+event): 90 €
*If you are a student (undergraduate or PhD) please send an accompaining letter from your supervisor to certify that you are a student.
Deadline for registration: 10 June 2013
Costs for lodging

Special rates are available at Hotel Giò for the Summer School and NANOENERGY2013.
Standard rooms (daily): double single use 75,00 € double room 102,00 €
Superior rooms (daily): double single use 90,00 € double room 122,00 €
The tourist tax of € 2.00 per person per night is included in the prices.
Registration
If you plan to attend the school, please fill the
registration form.
Please notice that school attendance is limited to 70 students and the participation will be assessed on a first-come/first-serve basis, subjected to acceptance from the Organizing Commettee.
Students can apply for a scholarship. The allocation and amount of scholarships are at the discretion of the organizing committee.


Supported by NANOPOWER, VII FP (FET Proactive Collaborative project N. 256959); ZEROPOWER, VII FP (Coordination and suppport action N. 270005); Wisepower srl; LANDAUER, VII FP (FET Proactive Collaborative project N. 318287)