Considerations for energy harvesting powered WSN real life system integration and target applications
Content of the lecture:
WSN IoT (wireless sensor network internet of thing') devices offer the opportunity to improve energy and resource efficiency and monitor the well-being of people, equipment and infrastructure by retrofitting sensors in the application environment (buildings, factories, smart grids, assisted living, environmental monitoring, smart mobility, etc.). Energy harvesting and related technologies offer the opportunity to extend battery life and ultimately eliminate the need for battery replacement in certain applications. To achieve this requires a 'real life system' integration approach to the selection and integration of the constituent materials and devices (generation, storage, power management) taking into account sensors needed, duty cycle, RF infrastructure availability/compatibility and ambient energies available. Most importantly this also requires close interaction with the user and supplier/developer of the WSN devices to ensure its power consumption is minimised. The lecture will provide a high level overview of factors for consideration as well as a number of practical target applications (condition monitoring, asset tracking, heating and lighting optimisation) where energy harvesting powered WSN IoT devices are being developed by Tyndall for industrial and smart building applications.
Teacher: Michael Hayes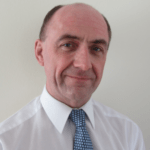 Mike Hayes has over 30 years of experience working in the power electronics industry and ICT/Energy Efficiency research promoting and leading synergy opportunities between domains. He has written a number of publications, participated in EU studies, presenting and chairing conferences and workshops related to this. He is currently work package leader on three EU energy/factory efficiency projects and coordinator of a "Powering the Internet of Things" infrastructure project (EnABLES) giving industry access (expertise, equipment, models, feasibility studies) to 11 leading research centres and universities in Europe.
Mike is currently president of PSMA (power sources manufacturing Association) board of directors and co-founder of the PSMA energy harvesting committee in 2015, chairing energy harvesting industry sessions at APEC 2017,18 & 19 and contributing to the PSMA technology roadmaps in 2017 & 2019. He is also co-founder of EnerHarv and was general chair for EnerHarv 2018.
Since 2008 he has been a program manager at Tyndall National institute, Ireland, primarily focusing on energy harvesting powered wireless devices and systems retrofitted on or near people, equipment and infrastructure. Prior to this he worked at power electronics multinational Artesyn Technologies covering a wide variety of technical and senior management roles.  For Tyndall he has secured over €10M in funding leading to the creation of over 30 jobs & helping industry partners secure €2.6M in VC/research funding. Tyndall is one of Europe's leading research centres and a world leader in PSiP (power supply in package) & PwrSoC (power supply on chip) domains and an epicentre for micro-power energy harvesting research in Europe. Mike received an MEngSc from University College Cork.