NiPS virtual Winter School 2020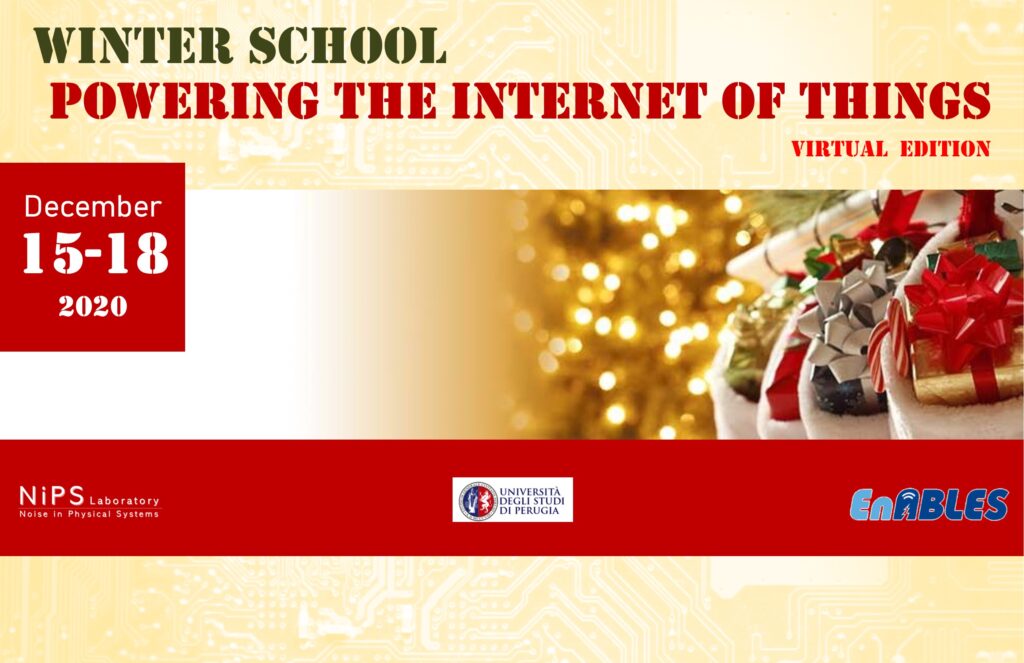 The Noise in Physical System Laboratory is glad to announce the NiPS Winter School "Powering the Internet of Things 2020" devoted to the topics of Energy Harvesting, Storage, Micro-Power Management and Systems Integration.
The Winter School takes the place of the initially announced Summer School of July 2020, and it will be a completely free, virtual event, due to the CoVid-19 emergency.
This is the third School organized by NiPS Laboratory in collaboration with the E.C. funded project EnaBLES.
The NiPS – EnABLES School, bringing together international scientists from academia, research centers and industry in the subject area of Energy Harvesting, offers the opportunity to young researchers to be aware of the state of art and moreover to generate newly founded enthusiasm for groundbreaking technologies in the field of energy harvesting and energy transformation at micro and nanoscales, and its use for powering sensing and communicating devices
Energy management in self-powered smart sensor and devices is required by IoT innovation, and this Summer School is a great opportunity to bring new blood to the power IoT community, a strategic way to prepare a new generation of "powering the IoT" researchers, encouraging collaborations and the comparison between different and complementary competences, not only for graduates and PhD students, but also for researchers from industry and academia.
The school is open to graduate students, post-docs, young researchers, and in general to all scientists interested in the physical foundations and practical applications of energy transformations at micro and nanoscales.
Participants will have the opportunity to present their own work at a poster session, through a "virtual Flash presentation" in the last day of the School.
Scientific Director: Luca Gammaitoni, NiPS Laboratory, Dipartimento di Fisica e Geologia, Università di Perugia
Supported by E.C. funded project EnaBLES and Wisepower srl
---
Deadline for registration:
14 December 2020
For any questions or information, please email to: school@nipslab.org
---
Scientific program:
Day 1 (Tuesday, December the 15th)
Day 2 (Wednesday, December the 16th)
Day 3 (Thursday, December the 17th)
Day 4 (Friday, December the 18th)
15:00 – 17:00 CET Virtual poster session & flash presentation
17:00 – 18:00 CET Optional final test

---
Previous editions of NiPS School have seen in ten years the participation of around 430 students and young researchers from all over the world.