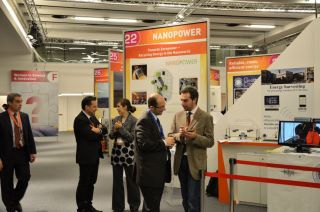 The NiPS laboratory team set up an interactive exhibit at the IC2011 Innovation Convention held in Brussels on Dec. 5-6 2011.
The exhibit is entitled "Toward Zero-power: recycling energies in the nano world.
Most of the innovative technological solutions on display at the Innovation Convention 2011 organised by the European Commission in Bruxelles on the 5th and the 6th of December are based on micro sensors that monitor physical parameters useful for human and animal health control that can be implanted or worn for health care, on powerful computer as small as shirt buttons used for ambient intelligence or sensors distributed in the natural environment to monitor its condition. At the moment all these ICT devices are powered with batteries but the research carried out by the Nanopower project on display at the Bruxelles  convention (booth 22) and directed by the NiPS Laboratory at the Physics Department of the University of Perugia – Italy,   shows a step forward. 

For more information please download our press release and visit our nanopower web site.
NiPS set up the NANOPOWER stand at IC2011 in Brussels