Radio Frequency Energy Harvesting
Content of the lecture:
Motivation and application examples

Wireless sensors, battery charging, human implants

Overview and general properties of different frequency bands
Inductive principle (LF/HF)

Coil parameters
Resonant operation
Load modulation

Electromagnetic principle (UHF/SHF)

Key components of a transmission line
Link budget – calculating a transmission line
Backscatter modulation

Standards and Limitations
Conclusion and introduction of poster
Teacher: Dr. Ing. Gerd vom Boegel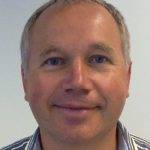 Gerd vom Boegel received the Diploma degree in electrical engineering from the University Duisburg in 1992. He joined the Fraunhofer Institute for Micro­electronic Circuits and Systems in Duisburg working in the field of system design technique for embedded systems. He received the Dr.-Ing. degree from the University Duisburg in 1999. At present he is responsible for the development of transponder and RF systems at Fraunhofer Institute.