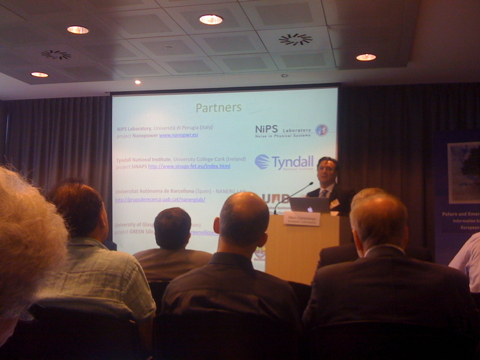 European Commission organized an Information Day for the FP7 ICT Calls 8 related to Future and Emerging Technologies (FET), that took place on 12 October 2011 in Brussels.
L. Gammaitoni from NiPS gave the keynote speah at the general sessio presenting the ZEROPOWER CA and a scientific talk (Beating the Landaur's limit) at the special session devoted to "Minimising Energy Consumption to the Limit".
FP7 CALL 8 was launched on 26 July 2011 and the deadline for submission of proposals is 17 January 2012.
More information, including registration and draft program of the event can be found at http://cordis.europa.eu/fp7/ict/fet-proactive/ie-oct11_en.html
The following FET themes have been addressed:
FP7-ICT-2011.9.6:
Unconventional Computation (UCOMP)
FP7-ICT-2011.9.7:
Dynamics of Multi-Level Complex Systems (DyM-CS)
FP7-ICT-2011.9.8:
Minimising Energy Consumption of Computing to the Limit (MINECC)
FP7-ICT-2011.9.12:
Coordinating Communities, Identifying new research topics for FET Proactive initiatives and Fostering Networking of National and Regional Research Programmes

NiPS at the info day of the European Commission on Call 8 Future and Emerging technology