Brussels Jan 31st 2018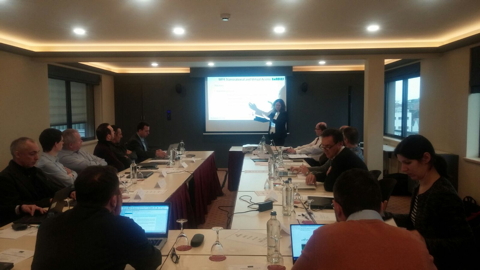 We just held the EnABLES Kick-off meeting, at the Bedford Hotel & Congress Centre, in Brussels.
At the meeting participated representatives from all the 9 partners.
NiPS Laboratory was represented by Francesco Orfei and Luca Gammaitoni.
EnABLES is a 4 year EC funded project EnABLES that will integrate key European research infrastructures (RIs) in powering the Internet of Things (IoT).
6 research institutes together with 5 knowledge hubs of excellence will address the long term needs of
energy management in self-powered smart sensor systems as required by IoT innovation. To enable truly
'invisible', unobtrusive and self-powered (autonomous) wireless devices a key challenge is to bridge the
gap between capturing 'ambient' energy supply from energy harvesting sources (EH), integrating new
devices for energy storage (ES) and taking into account the micro-power management (MPM)
requirements for miniaturised system operation.
EnABLES Kick-off meeting, at the Bedford Hotel & Congress Centre, in Brussels